Bij een club op internet (genaamd
Scrap en Stempel
) deed ik mee aan een kaartenketting. Dit is eigenlijk bijna hetzelfde als een Swap (zie
hier
), met als enig verschil dat je hier alleen een kaartje stuurt naar een persoon, ipv een heel pakket.
Door de verjaardag van dochterlief was ik deze ketting echter helemaal vergeten. Dus ipv een kaartje heb ik naar mijn ketting"zusje" een projectje gestuurd.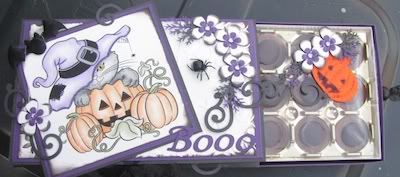 A club on internet (called Scrap and Stamp) organised a card chain. It's almost the same as a Swap (see here), but the only difference is that you only send a card to a person, instead of a whole package with materials.
Due to our daugthers birthday I've totally forgotten this card chain. So instead of a card I send my chain "sister" a little project.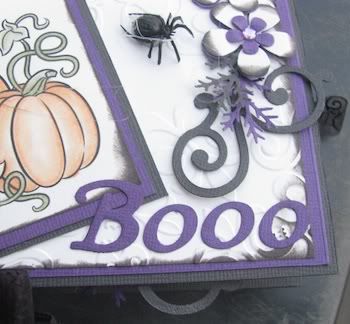 Het thema van deze ketting was herfst/halloween. Nou had ik eerst iets herfstachtigs in gedachten, maar uiteindelijk ben ik toch op halloween gekomen en ik vind het resultaat persoonlijk weer errug leuk geworden.
Over de bovenkant van het project heb ik met behulp van een lijmpistool wat draden getrokken, die natuurlijk bij het spinnetje beginnen/uitkomen en dus lijken op spinnenweb.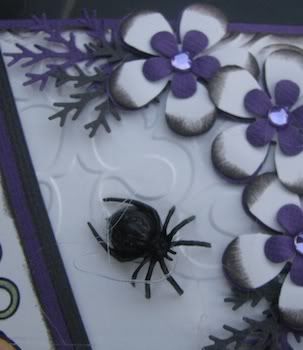 The theme of this chain had to be autumn/halloween. At first I wanted to make something with the theme autumn, but that didn't work out like I wanted to. So it changed to Halloween. Well, personally I think it worked out super.
I've used a glue gun to make little wires to make it look like a web which comes from or goes to the little spider I've used.
Op de binnenkant van projectje heb ik een tekstje geplaatst welke ik heb gevonden op
quotegarden.com
.
Hier kun je zo verschrikkelijk veel leuke tekstjes en oneliners vinden in heeeeel veel verschillende thema's.
On the inside of the project I've put a text which I found on quotegarden.com. Here you can find a whole lot of texts in very different themes.
De materialen die ik hiervoor gebruikt heb zijn de volgende:
* cardstock donkerpaars, antraciet en creme
* digi stamp die
hier
vandaan komt
* pons EK Succes - retro flower - medium en small
* pons Martha Stewart - takje
* cuttlebug embossing - skeleton scroll
* stans Quickutz - flourish
* halloween figuren (ooit eens gekocht in 1 zakje bij de Xenos)
* mini bezem
* mini spinnetje
* houten kraal (zwart gemaakt met Identi Pen)
* organza lintje
* plaksteentjes
De tekst is geprint mbv Word in het lettertype Darkwood
The things I've used for this little project are:
* cardstock dark purple, anthracite and creme
* digi stamp which I found here
* punch EK Succes - retro flower
* punch Martha Stewart - branch
* cuttlebug embossing folder - skeleton scroll
* cutting die Quickutz - flourish
* halloween figures (once bought in a store called Xenos)
* little broom
* little spider
* wooden bead which I've colored black with Identi pen
* ribbon
* self-adhesive gems
The text is printed with Word, font Darkwood
De digistempel heb ik ingekleurd met Derwent, kleurnummers;
I've colored the digi stamp with Derwent, numbers:
* C080 - bright orange
* C180 - blush pink
* C270 - royal purple
* C480 - lincoln green
* C590 - ochre
* C 650 - black