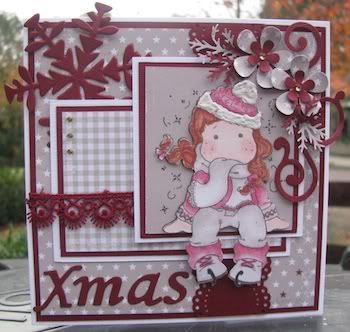 Op de club
Kaarten maken met Tiets
is er weer een Swap georganiseerd. Ik heb het al eens eerder omschreven, maar voor degenen die het nog niet weten zal ik het nog eens uitleggen.
Een Swap is eigenlijk een een ruil, denk ik. Je geeft je hiervoor op en dan wordt je op een lijst gezet. Deze lijst wordt dan verstuurd naar diegenen die zich hebben opgegeven. Het is dan de bedoeling dat je een kaart maakt voor diegene die onder jou op die lijst staat. Die kaart stuur je naar die persoon toe, maar daarbij doe je ook al het materiaal dat je gebruikt hebt voor die kaart. Dus eigenlijk heb je voor je kaartje 2x materiaal nodig, 1x voor jezelf en 1x voor diegene waar je het dus naartoe stuurt. Dan maakt die persoon waar jij je pakketje naartoe stuurt met deze materialen een heel ander kaartje. En omdat iedereen die zich heeft opgegeven dit doet, krijg jij dus ook een pakketje van diegene die boven jou staat.
Another Swap was organised at a internetclub called "Kaarten maken met Tiets". I've already told it once what this means, but for those who haven't read that, I will tell it once again.
A swap is what it literally means. You swap things. If you want to participate you have to sign up for it and you'll be placed on a list. This list will be send to those who had signed up.
Once you've received the list you make a card for the person below you on that list and send it to this person. But also you have to send this person the materials you've used for this card. So when you make this card, make sure you have enough stuff to make 2 cards, one for yourself and one for your swap-mate.
He or she on his/her turn makes a very different card with these materials. So you'll see two very different cards with the same materials.
Het thema van deze swap (want ook dat zit aan zo'n swap vast) was kerst. Nou daar ben ik wel in geslaagd denk ik.
The theme of this swap (that's also attached to a swap) is Christmas. Well, I think I've done it right, haven't I?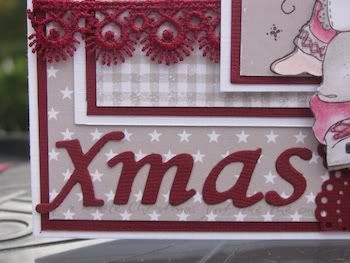 De materialen die ik (en dus ook mijn swap-maatje) gebruikt heb:
* rode en witte cardstock
* scrappapier van Paper and Pictures (die sinds kort hun eigen papierlijn hebben, en mooooii!)
* stempel Magnolia - speciale Magnolia Event 2010 uitgave
* pons Martha Stewart - doily lace
* pons Martha Stewart - takje
* pons EK Succes - retro flower - medium en small
* stans Quickutz - flourish
* stans Double Do - alfabet
* stans cuttlebug - ice chrystal
* kantje
* plaksteentjes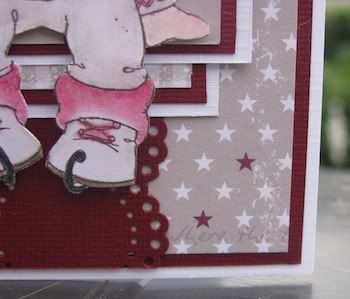 The things I've used (and send to my swap-mate):
* cardstock red and white
* design paper from a shop called Paper and Pictures
(they have their own design paper which is very, very beautiful!!)
* stamp Magnolia - special edition for the winter Magnolia Event 2010
* punch Martha Stewart - doily lace
* punch Martha Stewart - branch
* punch EK Succes - retro flower - medium and small
* cutting die Quickutz - flourish
* cutting die Double Do - alphabeth
* cutting die Cuttlebug - ice crystal
* ribbon
* self-adhesive gems
Het stempelafdrukje is ingekleurd met Derwent nr's:
I've colored the stamp with Derwent nr's:
* C150 - cranberry
* C170 - soft pink
* C180 - blush pink
* C520 - dark brown
* C610 - dark terracotta
* C650 - black
* C670 - dove grey
Ben benieuwd wanneer ik mijn volgende projectje ga plaatsen. Keep watching!!
I'm curious when I'll place my next little project. Keep watching!!!